Today's spotlight focuses on Savita, a Move it Or Lose it instructor based North West London.
We interviewed her about her life, her journey with Move it or Lose it and why she thinks its a wonderful modality for physical and mental wellbeing.
– Tell us about yourself-
I have a passion for learning and helping others improve their quality of life through movement. Initially, I worked in the NHS. It involved making services inclusive and helping to improve the services.
With regards to fitness, I had never planned to become a Fitness professional. However, I saw my mother and other people suffering from age related conditions such arthritis, osteoporosis and other similar conditions. I felt inspired to help others stay fit and active!
My fitness career started with training as Nordic Walking Instructor. I then went on to specialise in exercises for older people and those with different challenges. I found this very rewarding by seeing the tangible health results. Bad weather and winter months became a barrier for people accessing this outdoor activity. So I started looking into training further in indoor activities and found 'Move it or Lose it'! I have also trained in ' Tai Chi Movement for wellness' and taught Tai Chi Movement,  alongside Nordic Walking and strength and conditioning exercises. I am also a qualified Pilates Instructor!

As you can see, I am passionate about health and fitness. This is why I decided to set up Move it or Lose it Exercise Classes.


During lockdown, I provide online classes in Move it or Lose it, as well as an array of other mindful and exercise classes. Please check out my social media and website for more information.
I can speak English and other Asian languages and for those who may experience language as a barrier to classes. I also offer 'Women only' classes to overcome any cultural barrriers.
– What is Move it Or Lose it? –
Move it or Lose it was set up in 2010. Researchers and health professionals developed gentle exercises to 'turn the clock back'. A move it or Lose it regime helps maintain independence as well as physical and mental wellbeing. The functional exercises are designed for older people and those with conditions including:
Parkinson's
Hip and Knee replacements
Multiple sclerosis
Chronic Obstructive Pulmonary Disease
The exercises can be done:
Seated
In a wheelchair
Supported (Using the chair as support)
Standing
All sessions include flexibility, aerobics, balance and strength exercises. They use equipment such as a light resistance band, small balls and light weights which help in day-to-day activities. Anyone aged 50 – late 90's or those with mobility challenges can join these sessions.
1. Why were you drawn to Move It or Lose It! Initially?

I was drawn to Move it or Lose it because it reaches outo to an older demographic, where a lot of exercise modalities don't. I love helping people maintain their daily independence. It really helps improve peoples quality of life. Through easy gentle exercises, anyone can perform the exercises according to their ability under the Move it Lose it Instructors.
2. How did you start to practice exercise regularly? What effect did it have on your life?

I had always exercised in various gyms, but found it boring and gave up after a few months every time. I much preferred group classes and outdoor exercises. When I practiced in these settings, I realised the social, physical and mental benefits of it.
After I took up regular exercise classes I found that I felt more energised, physically stronger and mentally fresh. I also found that my issues with my neck (cervical spondylitis) improved. I also noticed that after exercising regularly, my immune system had improved as I was not constantly getting ill with colds and flu.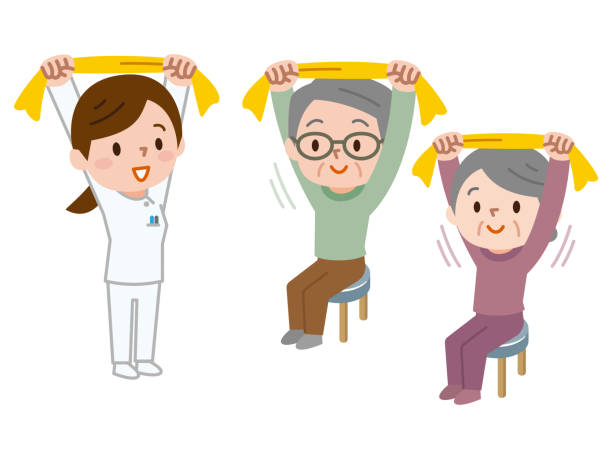 3. When did you decide to start facilitating Move It or Lose It classes for others?
I completed the Move it or Lose it course in late 2019. I had looked into local venues and about to start the face-to-face classes and we went into lockdown with the COVID-19 pandemic so I started offering it online via Zoom. They have been a lot of fun! I love teaching them and students really feel the benefits, however I can't wait to teach in person!

Below is an an example of my zoom class in action!
4. How does Move It or Lose It! benefit mental and physical wellbeing?
Move it or Lose it' is a very well designed course to help people to improve their flexibility, aerobic health, balance and strength. It also has a wonderful effect on mental wellbeing and is very social!
Exercising releases endorphins that make you feel mentally happy and energised. The online sessions I offer help people to socialise with others, especially during the lockdown especially those who are alone or isolating. I set 15 minutes after the session for group chats which participants have found it very helpful during these hard times. I have had people who have commented a number of times that they were struggling to join class, as they were having a bad day. They ended up joining and were glad as it helped boost their mood. I always advise students to join in and do gentler exercises with adaptations and listen to their body (we emphasise on that). Exercising with others under instructions help both mentally and physically. These classes are suitable for anyone aged 50 plus, no upper age limit and those with disability or limited mobility.
5. What would you say the main barriers are to people wishing to attend classes? What would you recommend for them to overcome it?
Technology is definitely a barrier, as many are scared about learning and using technology. A lot of people are also unable to find help or assistance to set up for online classes.
Fear is also a barrier I find people face. Some people are scared that exercising will worsen their conditions, where often it can help improve their quality of life. They may not be aware that these exercises have been designed to help improve their physical and mental fitness for those conditions.

To overcome these barriers, I would recommend people speak to their friends and family to help them set up a class online. I would also recommend that, as the 1st class is free, to come along and try a class for themselves to see!
6. Do you recommend people practice any other modalities or do anything else that is positive for mental and physical wellbeing, to complement Move It or Lose It! classes?
I recommend people to carry out exercises in between doing little tasks around the house such as waiting for the kettle to boil whilst making tea. Perhaps a few heel raises, or arm raises! Mindfulness is also useful to practice daily.
7. What would you recommend for people looking to start Move It or Lose It! classes, but don't know where to start?
Those who would like to join Move it or Lose it classes can go on to the Move it or Lose it website and find classes in their areas from the list on their website or contact me on my details below.

Classes cater for a range of needs, so students can come try a class that is differentiated to suit an array of abilities. Everyone is lovely and supportive, so new students might as well try. Even if people want to come observe a class, everyone is welcome.
– Overcoming Lockdown Challenges –

Many students reported feeling alone and isolated during lockdown. This greatly impacted on students mental health. Some students had never used online technology but learnt to use it. The online sessions helped them to exercise and gave them opportunities to socialise with others on zoom. They found they enjoyed this, in the comfort of their own homes, without having to travel anywhere!  Some are loving the   technology which enables them to participate in group exercises without having to add extra time to travel to venues and keen to continue online classes.
As we are now beginning to slowly ease out of the lockdown some have requested to continue the online classes as it saves them time and effort in getting to physical venues.
My 86 year old mother who suffers from arthritis and can only walk with the aid of a walker learnt how to access classes on Zoom and does the classes seated and thoroughly enjoys them.
To sum it up….
I have a great passion for helping improve their physical and mental wellbeing, especially seniors or those with mobility challenges. This is why I love teaching Move it or Lose it! It is designed to help people stay fit, active and independent for life!
Thank you so much Savita, for being in the Spotlight today!
To find our more about savita, her classes and the services she offers, contact her below on her social media pages or website:
Mobile: 07931 787 714
Email: savitastepitup@gmail.com
Facebook: https://www.facebook.com/Step-It-Up-with-Savita-103807301405856/
Website: Savitastepitup.com
About The author:
Aimee is a Yoga, Meditation and Move It or Lose It! teacher in located in Middlesbrough, England, UK.
To find out more, visit www.amalateesside.com